Eddie Monger's Kickboxing-Do
Eddie Monger was ranked number four in the world!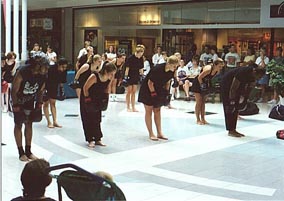 The class bows in while saying "OS" to pay respect to Coach Eddie Monger as the demonstration begins.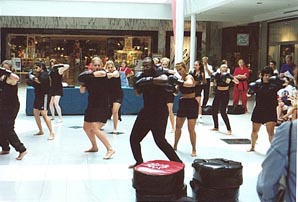 The Demo Team and Coach Eddie Monger throw magnificent hooks.
---
What Kickboxing Does For You.
---
Eddie Monger's Kickboxing-Do allows you to get into shape (cardio and muscular). EMKD builds self esteem and self confidence by making you healthy, fit(body toning and cardio), and better able to take care of yourself after learning the techniques and training. You're able to work and associate with people more easily because we are a team. We cheer for each other, we push each other to better ourselves, and help each other with techniques and training . You will also learn and train in kickboxing, self defense, boxing, and muai thai so you can defend yourself if needed.


---
Coach Eddie Monger's History
---

In 1968-1971 Eddie participated in junior boxing.

In 1971-1986 Eddie began his Karate, Kickboxing, and boxing career.

In 1979 Eddie trained with Bill Superfoot Wallace for 1 1/2 years at Memphis State University. His teammates were Don Crenshaw, Tony Rosser, Steve Stanford, and DinoButler.

In 1986-1988 Eddie trained with two Tennesseans for the 1988 Olympics (Terrence Phillips and Dewana Plunk).

In 1987 Eddie's Amateur Lightweight, Ras Dragonfly Lowe won the PKA belt and was written up in Black Belt Magazine.

In 1989 Eddie judged his first world Super Middleweight Title fight between James Mack Jr. and Anthony Anderson.

Eddie has been a sparring partner with Anthony "Amp" Elmore, Melvin "Hitman" Cole, and Jerry Rome all well known fighters..




---
Recent accomplishments
---

In August of 1997 Eddie's Amateur, Brenda "2sweet" Harrison, won her first fight by almost knocking her opponent onto the judges table.

In June 1998 Eddie's Amateur , Danny "Rokk" Cucuta, won the IKC belt a minute and a half into the first round..

On August 29th of 1998 Eddie's Amateur Danny "Rokk" Cucuta (now 3-0), George "Catman" Munn (Knockout), and Foshie Bell (Knockout) all won their fights on the 29th.

---
Location (Schedule)
---

National Karate
Introduces
Eddie Monger's
Kickboxing
Monday
9:00 p.m. - 10:00 p.m.
Tuesday
8:00 p.m. - 9:00 p.m.
Tuesday
9:00 p.m. - 10:00 p.m.
Thursday
2:30 p.m. - 3:30 p.m.
Thursday
8:00 p.m. - 9:00 p.m.
Thursday
9:00 p.m. - 10:00 p.m.
Friday
2:30 p.m. - 3:30 p.m.
Friday
7:15 p.m. - 8:15 p.m.
Saturday
8:00 a.m. - 9:00 a.m.
Saturday
4:00 p.m. - 5:00 p.m.
Membership Options

3 month program $70.00 per month
6 month program $60.00 per month
12 month program $50.00 per month
- unlimited class access
- auto payment plan available

Gear requirement t-shirt, 16oz gloves, hand wraps, and jump rope.
Available at National Karate cost $62.00.

National Karate
10922 Alpharetta Hwy. #5
(770) 642-5500
Tom Koetter

Head Coach/Instructor
Eddie Monger (Private Lessons)
1-888-992-8537

"No longer just a sport but a way of life".
---
More about the page
---
Eddie Monger's Fighters

North Point Mall Demo

Sports Authority Demo


---
Links
---
International Sport Karate Association
International Kickboxing Federation
Pro Rank Martial Arts and Boxing Equipment
---
Weather
---
---
Contacting Us
---

---



When you sign the guest book and leave your email address you will get a coupon for one free kickboxing class!



Sign Our Guestbook
View Our Guestbook
---
Modified Feb. 1999.